Are you looking for the perfect place to escape the hustle and bustle of daily life? A place where you can relax, unwind, and soak up the sun? Then look no further than Villa Lusso Mare in the heart of Istria.
With its panoramic views of the Adriatic Sea, Villa Lusso Mare offers the ultimate backdrop for a dream vacation. The endless blue of the sea creates a unique atmosphere full of vibrant hues, especially at sunset when the skies are painted with a spectrum of colors.
The extremely well-designed exterior of the luxury villa is both elegant and inviting. From its numerous comfortable seating areas to its beautiful outdoor dining table, you'll find everything you need for a comfortable and relaxing stay. The private pool is the perfect place to spend lazy days in the sun, with plenty of sunbeds available for sunbathing or soaking up the warmth.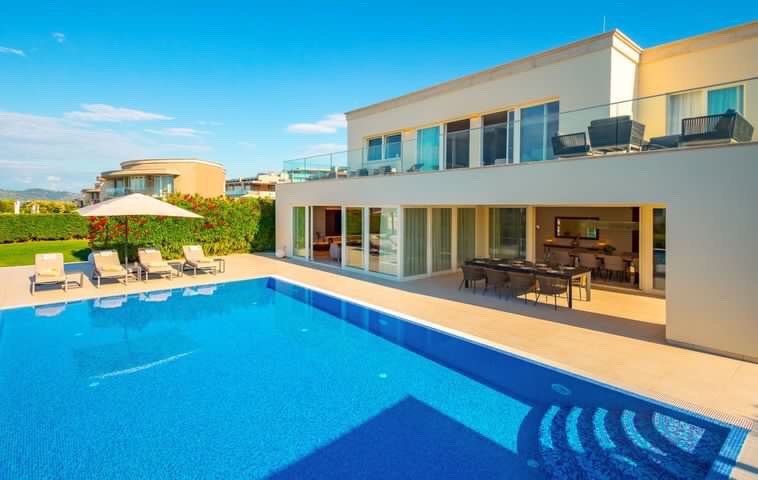 Inside the villa, you'll find top-of-the-line amenities and modern furnishings, all designed to provide you with the utmost comfort. The spacious interiors and high-end features make this villa the perfect place for families, friends, or even a romantic retreat.
Whether you want to spend your days exploring the nearby beaches, trying out the local restaurants and bars, or simply lounging by the pool, Villa Lusso Mare has everything you need for the ultimate vacation experience. The friendly and knowledgeable staff are always on hand to assist with anything you need, ensuring that your stay is as comfortable and enjoyable as possible.
In conclusion, if you're looking for a luxurious and relaxing getaway, look no further than Villa Lusso Mare in Istria. Book your stay today and get ready to escape to paradise!